Booming tourism puts heritage sites under threat
(Xinhua)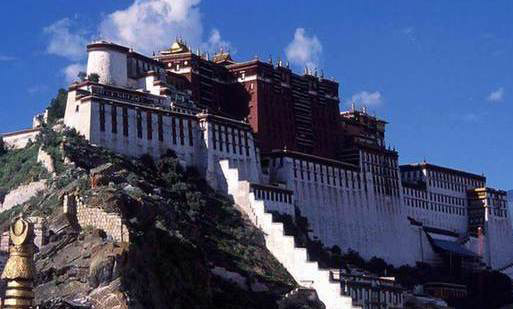 Potala Palace in Tibet [Photo/China.org.cn]
Booming tourism in the Tibet autonomous region is putting the preservation of its centuries-old heritage sites under unprecedented threat, according to experts.
The local tourism administration is expecting a record 10 million visitors to Tibet this year, a "real challenge" for Tenzin Namgyal, deputy chief of Tibet's cultural heritage administration.
"The boom will certainly bring wealth, but it will also put the safety of Tibet's heritage sites to the test," he said, ahead of the start of the tourist season in May.
Tibet has 4,277 major cultural heritage sites, mostly monasteries.
"These are often centuries-old mud and wood structures that are extremely vulnerable and need immediate protection," he said.
Particularly since the 2006 opening of a railway to Tibet, visitors have flocked to these monasteries, putting unprecedented pressure on the already ramshackle structures.
"Some monasteries suffer subsidence, some have deformed walls and many of the precious frescos are damaged by temperature and humidity changes and excessive exposure to flashlights," said Tenzin Namgyal.
He believes the situation could deteriorate as the number of visitors continues to rise.
Tibet has reported an average 30 percent increase in the number of visitors annually in recent years, said Tsewang Tashi, vice president of the regional federation of industry and commerce.
In 2011, nearly 8.7 million trips were made by visitors from home and abroad to Tibet.
Meanwhile, the plateau region is planning to draw 15 million visitors annually by 2015.
"Tibet is facing a dilemma: tourism authorities want more visitors and higher revenue, while we, as heritage guardians, want fewer tourists to keep the sites safer," noted Tenzin Namgyal.
The regional government, he said, has worked hard to settle on compromises that meet the demands of both sides.
One significant move was to encourage visitors to travel during the slack seasons of fall and winter. Last year, Tibet's tourism authorities and companies offered special winter tourism packages.
Meanwhile, authorities are cracking down on ticket scalpers at major destinations, including the Potala Palace.
The palace was built in the seventh century and expanded during the 17th century. It was placed on UNESCO's list of world cultural heritage sites in 1994.
This year, the palace will receive an estimated 1.3 million visitors, up from last year's 1.16 million, said Khyungda, an official with the Potala Palace administration.
Between May and October, the administration places a daily limit of 4,000 on visitor numbers for safety. This year, it has installed a 4 million yuan (US$630,000) system to monitor visitor flow.
China's central government has invested heavily in preserving heritage sites in Tibet.